I'm deliberately taking a short break from my lazy, movie-marathon Sunday since I feel my eyes watering and my back aching. I honestly want to get this post over and done with so I can go back to my comfort place before a new, long week starts again.
Episode of the Week
The Spoils of War, obv.
Unpopular opinion: As much as Dany is a badass, I don't appreciate her as much as I did back in Seasons 1-4. More so Jon bending the knee and them having an incestuous romance. Nope, I'm not for it. Also #TeamYgritte4eva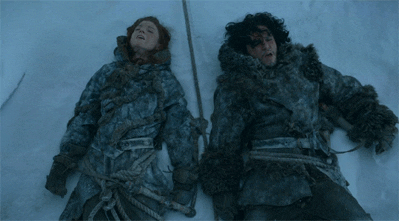 Band of the Week
Two Door Cinema Club. I'm a creature of habit and I'm trying to break it when it comes to music. I would want to explore more choices however I still go back to the bands I listen to… that I haven't listened in awhile. That does not count as exploring, doesn't it?
New German Movie
Es war einmal in Deutschland. My previous language school holds a monthly movie event and I get to go to these events eventhough I no longer study German there. It's a good way to discover movies and learn at the same time. I surprisingly find German movies enjoyable and I stopped watching international dubbed movies. Better to watch it in its original form. I consider so far Lola Rennt as my favorite German film but I like discovering new German films— and this monthly event definitely helps.
In case you're my German blog reader, I recommend this film too. Es geht eigentlich um das zweite Weltkrieg, doch es ist interessant und auch lustig als ich erwartete.
Discovery of the Week
A new vietnamese restaurant. Prices are reasonable, atmosphere is good plus it is open on Sundays! A great advantage when you're living in DE.
I-give-up moment of the week.
Die Hexe von Portabello (The witch from Portabello). I was almost at the end but I just gave up and read the ending online. Really not my taste. I'm reading a new one at the moment— a thriller. I had enough of romance.
Bible verse of the week
"The least of you will become a thousand, the smallest a mighty nation. I am the LORD; in its time I will do this swiftly." Isaiah 60:22

I'm praying for a certain 'mission' in my life and reading this verse encourage me to the fullest.
Highlight of the week
Henri and Smilla. I'm babysitting these twins since last year and I'm seeing them slowly grow up. I saw them a lot this week (4 days in a row) and today I saw them swing alone for the first time. It was actually fulfilling… not until three minutes have passed and no one wants to go down the swing. Five minutes in and I saw them falling asleep. So much for the big-kid moments.
Other than these things, I also ran and my splinter got worse. The weather was also intolerable in Hamburg and I just paid 40 euros worth of medicines. Not a slow week, amirite? Now let me go back to my movies and chips.