When I say stuffed, this has not only to do how much I've been stuffing my self lately with food but also how packed my schedule was and actually, will be from now on. There's so much on my plate right now but I honestly don't feel burdened by it. I can say I'm very fulfilled.
Among other things, here's what I'm currently in and up to.
Listening
Bethel Music. Been playing Ever Be a couple of times now because it's true, His praise will ever be on my lips.
Watching
Der Tatortreiniger. The 20-minute episodes are good for pre-sleep/Deutschverbesserung activity.
Catching up on
Mr. Robot Season 3. Hello Elliot, you sexy hacker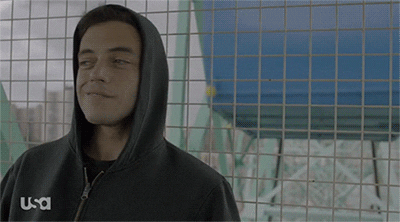 Reading
Follow Me!. I'm reading this for my baby thesis.
Drinking
Green tea. I'm relying on it after eating so much today.
Learning
old tricks from my previous job. I'm so glad I paid attention to our programming department back in Solar since I'm doing the similar job here in Hamburg. It pays to be a curious cat!
Feeling
Bloated. I  ran for twenty minutes yesterday and I walked half of it. I felt so heavy! Haha. The last time I ran was two weeks ago and I clearly remembered that I walked half of it too. I kinda lost my running habits ever since UNI started plus winter ain't a good motivator. The holiday's coming so I'm gonna let go until then.
Attended
Bethel Youth's Worship Night. My prayer group leader and friend invited me to this Worship Night in her church but she wasn't able to join me 'cause of Thanksgiving. Nonetheless, I went and experienced first-hand a very lively worship night headed by the African community. Let me share one powerful statement from the Pastor,
"We are living like lambs even though we are created to roar like a lion."
Updated
my Ello account. In case you're on it, follow me by clicking here.
Discovered
My sleeping habits. I recently started working in a production company (an answered prayer!) which is at least an hour away from where I live. I even have to take a regional train going there! But Lord, I'm not complaining.
This also means that I have to wake up early and avoid staying up late. This is never a big problem of mine since I'm often asleep before midnight. The only thing is, I am always sleepy when I get home after a long day. I am already in bed around 8-9pm and find myself waking up after midnight! I counted the hours and figured that my body got so used to the 6-7 sleeping hours. Knowing my sleeping routine well, I can now adjust so I could wake up on time.
Now that we're talking about sleeping, guess this has to do for now. Have a great week!