My family has been watching Eat Bulaga! religiously ever since Aldub came into the picture. Don't label us bandwagoners; we have been on Team Eat Bulaga! since its RPN days. I could distinctly remember our black and white TV screen, waiting for Eat Bulaga's countdown when it moved to a different channel. But man, Aldub is different. I never knew someone could replace (or at least come close) Piolo-Juday, Jolina-Marvin, and Bea-John Lloyd to my heart.
Last Saturday was our second attempt in watching EB live; the first one was during APEC (we had to head back home due to the horrible traffic—different story to be told). We were at the studio earlier than expected and we saw a huge group of people who were there even before us, which got me thinking, "Wow, I wouldn't dare call myself a big fan compared to these people" They were…ALL OUT. Crazy. Amazing.
So while waiting, me and my uncle had to go to the gas station across the street and witnessed this :
We saw it happening right before our eyes. What a pleasant sight, right? The surprises didn't stop there. 
When we got to the waiting area, my Tita found out her friend only reserved 10 seats–we were 12. It was hard to decide who gets left behind; I actually thought of going Katniss right then and there
My cousin and her boyfriend ended up staying behind. Problem solved. 
And so we got inside. We had to wait for 2 1/2 hours till the show starts. It could have been a pleasant wait if only they allowed food and drinks inside. Plus, we were freezing.
The three entertainers were the saving grace as well as the chance of winning prizes later on.
From time to time, we saw Baste and Ryzza rehearsing. BASTE IS SUCH A QT. I wish I could take him home and my pictures didn't do justice to his adorableness. The show started eventually and honestly, I didn't enjoy it the way I did when I watch at home. Don't get me wrong, the show is truly entertaining. However, for someone who is familiar with how TV production works, my eyes are focused on what's happening technically. You couldn't really take the TV out of the TV person. Plus, I was really distracted by the charms of  Ryan Agoncillo. ❤ Palusot pako. Hehe
Well, let me get to the main point of this entry : ALDUB.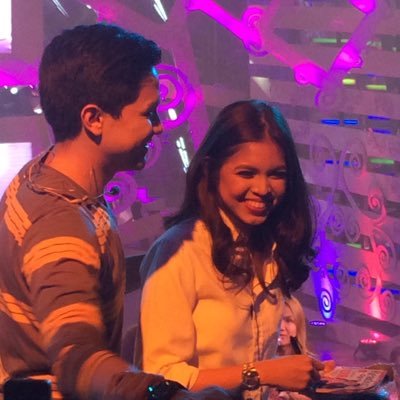 They were magnetic in person. You could tell these two are something. I was especially enamored by Alden Richards. What a handsome young man. My goodness.
Exhibit A : 
Exhibit B: 
Wrong grammar pa sa pagmamadali. At yes, may family account kami for ALDUB. #noshame
Fun Aldub fact : They were really sweet off-cam. We saw Alden teaching Maine the chords after the segment, with Alden guiding Maine's hand to the kiss….charot, keys. Alden was also the complete gentleman around Maine. If I were Maine, naku girl, walang lugi. It goes both ways, actually. Maine was closely attending to Alden. Meron na talaga yan. I believe they are comfortable around each other…honestly, too close for comfort. I wouldn't be surprised at all if they decide to become a couple. The chances are not slim. High moment of the day when Alden kissed Maine on the cheek. KIILIIIGGGGERS. ❤ ❤ ❤
We left the show hungry but happy. I'm glad we had that chance to watch the show as a family. When we got home, we watched the replay and saw ourselves. We had a good laugh and that is what's important. I know it sounds cheesy & Lola Nidora-ish but I'm going to say it anyways,
Eat Bulaga really does bring families together. I think the main reason why they are still here is because of the joy they bring to thousands of people worldwide and they connect every person to one another. God wouldn't stop this purpose but will flourish them even more. I am also glad to know that they've been spreading the knowledge of the living God  & that is the testament that God is on their side. Plateau or not, they will stay and live on.
Thank you, EB. *woooh
From the girl who always loses in raffles,